Galerías Pacifico
Gape at this luxurious shopping centre that's a true architectural gem. Galerías Pacífico is one of the city's most opulent shopping centres, and many people visit just to see its installations and its dome, which is painted with murals by […]
Gape at this luxurious shopping centre that's a true architectural gem.
Galerías Pacífico is one of the city's most opulent shopping centres, and many people visit just to see its installations and its dome, which is painted with murals by Argentine artists Antonio Berni, Lino Enea Spilimbergo, Demetrio Urruchúa and Juan Carlos Castagnino.
The central downtown building, at the intersection of Florida and Córdoba, was constructed in 1889 to house Au Bon Marché department store but never served this purpose and instead was used as the site of the Museo de Bellas Artes until 1940. The building was converted into a shopping centre in 1990 and has been declared a national historic monument because of its architectural importance.
It contains specialised leather stores as well as international names, and a food court. Personal shoppers are available with pre-booking, and the centre provides facilities for children, a bureau de change, ATMs and a premium taxi service.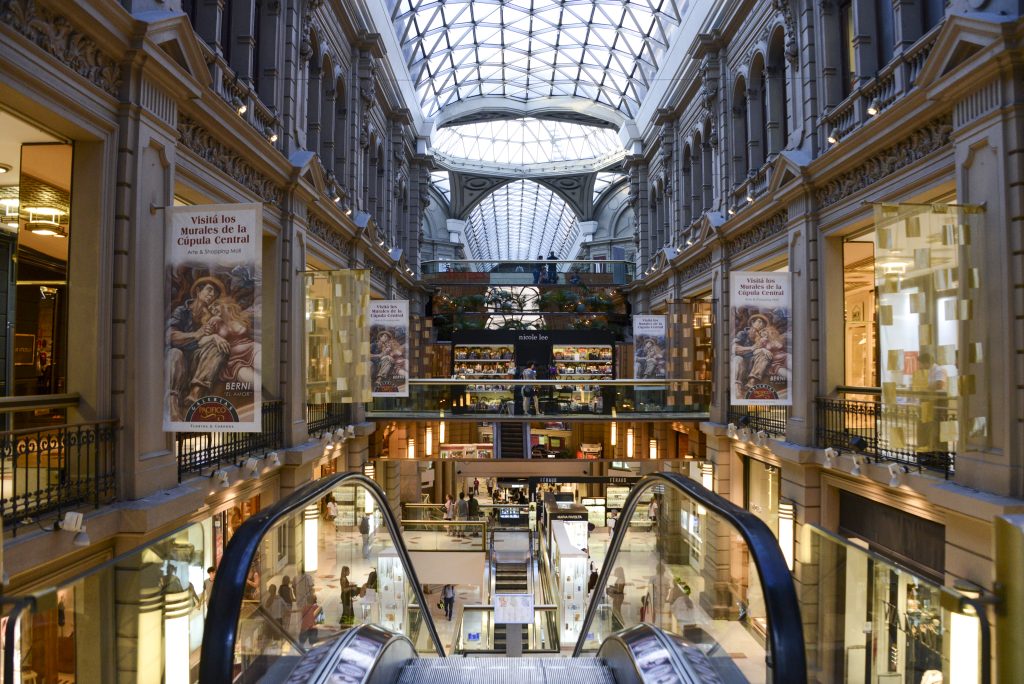 The centre is also home to the Centro Cultural Borges, the venue for a tango school as well as art exhibitions and workshops.
Guided tours: Those interested in learning more about the building's history can reserve a 20-minute guided tour (phone 5555-5110), Monday to Friday at 11.30am and 4.30pm. The tour can also be completed independently using audioguides (Spanish, English, Portuguese and French) available at the information desk on the ground floor.